Washington voters have a choice: Two ways to conduct gun checks
---
Even for the end of term, the campus was exceptionally empty. The occasional student drifted past Otto Miller Hall, peering into the boxy gray science-and-engineering building, but there was no going inside. Not with the yellow police tape blocking the doors.
It was June 6, and only the day before, the hall had been the site of a deadly shooting, one that brought national attention to Seattle Pacific University.
Aaron Ybarra, a 26-year-old mentally unstable gunman, had chosen the small Christian university, nestled in a peaceful hilltop neighborhood in northwest Seattle, to carry out a Columbine-style school massacre. He was armed with a legally obtained Browning shotgun and had about 50 rounds stuffed into his pockets. Three students were shot. One, a 19-year-old freshman named Paul Lee, died.
Now, voters in Washington state are confronted with a choice about whether or not more background checks on gun sales would prevent similar tragedies.
Two rival ballot initiatives pit one side of the political spectrum against the other in an irreconcilable clash of views. With gun debate heavyweights and big-name backers like Microsoft co-founder Bill Gates entering the fray, the outcome could have national implications.
One of the initiatives, 594, proposes universal background checks. Prospective buyers already have to pass background checks to purchase from licensed firearm dealers under federal law. But 594 would also apply to firearms exchanged at gun shows, through Internet sales and between individuals.
The other initiative, 591, prevents background checks from being applied without a uniform national standard. Federally mandated background checks would still be allowed, just not individual variations at the state level. The initiative also has a provision emphasizing that the government cannot confiscate firearms without due process.
Seattle Pacific University
The initiative face-off has led to a fierce statewide debate. Proponents of 591 warn their opponents will unleash "a barrage of money and operatives from out-of-state to attack our rights and make us all less free."
That's a claim dismissed by backers of 594, the universal background check initiative. "It's some pretty crazy, tinfoil hat, conspiracy theory stuff," one of their emails reads.
Despite the tense rhetoric, there is no clear winner prevailing. An April poll indicated each initiative might already have the majority needed to win.
The early poll showed the universal background check initiative with a lead at 72 percent, compared with Initiative 591's 55 percent support.
However, a July update on the poll indicated a clearer leader. Initiative 591 dipped below the majority needed to win, with 46 percent, while 594 remained relatively steady in its levels of support at 70 percent.
But the possibility remains that two conflicting initiatives, which share no middle ground, could both become law. What happens then?
"We don't know," said University of Washington law professor Hugh Spitzer.
"We have no court case that can tell us. We get no guidance from the constitution," said Spitzer. "My guess is that the state Supreme Court would try to reconcile the two initiatives, but they can't be reconciled."
He speculates the court would ultimately side with the initiative that got the most votes, if both indeed were to pass.
Thirty-two percent of the voters surveyed were inclined to vote "yes" on both initiatives. The pollster, Elway Research Inc., suggests that voter confusion might be a problem come Election Day.
Conservative author Alan Gottlieb remembers a time when the polls were misleading to the detriment of the gun control side. Gottlieb is a leader in two national gun rights organizations, as well as the chairman for the Initiative 591 campaign, "Protect Our Gun Rights."
Gottlieb proudly displays mementos of his gun rights victories around his office. They include a check, blown up to Publishers Clearing House proportions. Chicago Mayor Rahm Emanuel had to sign away $399,950 to reimburse legal costs after Gottlieb helped overturn the city's handgun ban. Looking back, Gottlieb sees parallels between the present-day background check initiative and another victory he had in the past, here in Washington, against Initiative 676.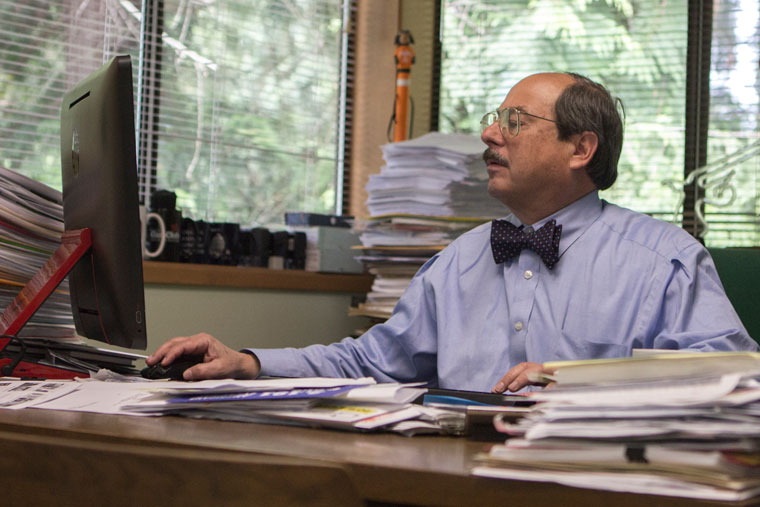 The year was 1997, and the initiative seemed like a shoo-in for gun reform advocates. Polls had projected the initiative to win by a wide margin. Its mission was twofold - to create a system of safety training, examination and licensing for handgun ownership and to require trigger-locking devices for newly transferred handguns.
It suffered a resounding defeat, failing to convince even 30 percent of Washington voters. "I was very, very involved in that. In fact, I was the leader of 'Vote No on 676' back then," Gottlieb said. "I personally raised $1.2 million from gun owners across the state of Washington to fight it."
Gottlieb believes the deciding factor will be the same this year: voter education. "It was a total reversal," he said. "The problem is, people like the concept of gun safety. It sounds good. So they were all for it, until they find out what's in it."
"That initiative didn't just fail. It failed badly," said Jamie Pedersen, a state senator who supported recent background-check legislation, as well as Initiative 594. "We still live in the shadow of Initiative 676."
Pedersen points to money from the National Rifle Association as the key to the previous initiative's defeat. The NRA put more than $3 million into its campaign and promised a media deluge that would match every pro-676 advertisement with five of its own.
"But I think there will be a different story in 2014 with the background check initiative," said Pedersen. "There are several national groups that have demonstrated already in their work so far that they can go toe-to-toe with the NRA."
Even today, the NRA continues to invest heavily in Washington state. A 2013 report concluded the NRA spends more money on Washington politics than for any other state in the country. Even the next-biggest destination for NRA direct contributions, Texas, got $26,050 less than Washington, which received $68,300.
Shortly after the Sandy Hook shooting, a new player emerged: the Washington Alliance for Gun Responsibility (WAGR). It has already outspent the NRA on lobbying in Washington state, and this year alone, its lobbying expenses have totaled $36,000.
WAGR runs the campaign to promote Initiative 594 for universal background checks, and it has raised more than $2.7 million in contributions. Some of its biggest financial support comes from famous names. Nicolas Hanauer, an early investor in Amazon.com, has been one of WAGR's biggest donors. Other donors include Bill and Melinda Gates, former Costco CEO James Sinegal and former New York Mayor Michael Bloomberg's group Mayors Against Illegal Guns.
The mayors group has since merged with another prominent gun reform group, Moms Demand Action for Gun Sense in America, to create Everytown for Gun Safety. As of July 1, Everytown had set up an "Action Fund for I-594."
"We hope to build a counterbalance to the gun lobby in Washington state," said Zach Silk, campaign manager for Initiative 594. "The gun lobby has been able to defeat sensible gun legislation really for decades in Washington."
That monetary "counterbalance" represents a threat to the 591 campaign. Gottlieb said he's confident that grass-roots support from gun owners will buoy Initiative 591 to success, but not as confident as he'd otherwise be.
"I'd be very optimistic if it weren't for the fact that we're going to be outspent four-to-one. I would be really optimistic if it weren't for the money factor," said Gottlieb. "They're bringing in a lot of big-dollar donors from across the country. That's the problem we face."
Washington's dueling ballot initiatives mirror the trend within gun advocacy groups to invest more time and resources into local fights, rather than national ones.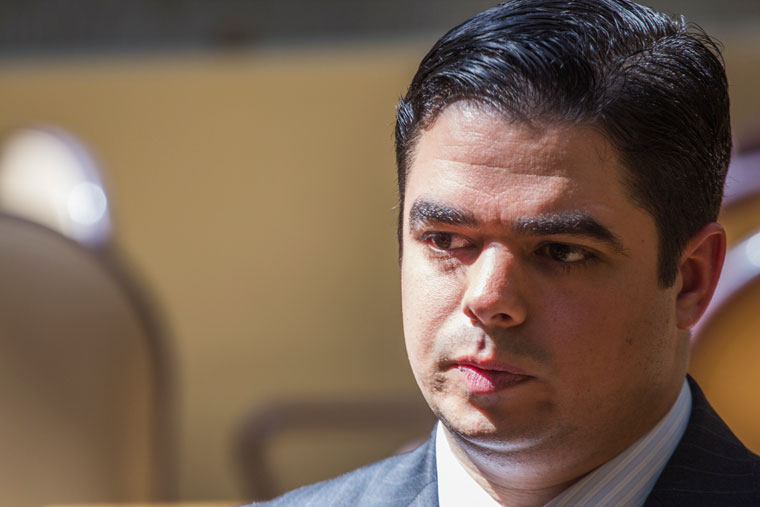 "On a national level, the gun-rights-versus-gun-control debate has really reached an impasse - or a détente," said Philip Watson, a colleague of Gottlieb's on the 591 campaign. The initiative process allows gun rights advocates to make change "this year and right now," he said.
The background check supporters also share frustration over the legislative process. Frani Assaf is the executive director of one of the state's oldest gun reform organizations, Washington Ceasefire. In the past, she said, her organization was "way more political and involved in the legislative process."
"We've been disappointed so many times legislatively," Assaf said. "They're just so timid, our legislators. So we've decided we're not going to put our focus and energy and effort legislatively anymore."
Part of the issue, Assaf said, is the political rift in the state. The west-side metropolitan areas like Seattle are largely liberal, but east across the Cascade Mountains, political tendencies lean conservative.
That geographical divide feeds into a legislative one. Washington's legislature is split between a Democratic House and a Senate controlled by the Majority Coalition Caucus, an alliance of Republicans and two "purple" Democrats.
The coalition was cemented over an agreement "that we would not talk about controversial issues like guns and babies," according to state Sen. Pam Roach. An outspoken "constitutionalist," Roach organizes an annual "shootout at Littlerock" for Washington legislators. Roach said she's committed to "protecting the status quo."
The status quo was tested when the two initiatives were presented to state politicians, who had the opportunity to pass or amend the proposals. They did neither.
"We really believe that elected officials are elected to basically compose solutions to really complicated social problems. But they have totally punted on this. They have completely avoided responsibility," said 594's campaign manager Silk. "In the absence of their action, we decided to take action ourselves."
Background checks are popular in polls. A 2013 Pew Research found that 81 percent of Americans approve of expanding background checks to gun shows and private sales.
Even Gottlieb supports background checks, so long as they don't penalize gun owners by creating permanent records of gun ownership. Gottlieb broke with many gun rights advocates by briefly supporting a national background check bill, the Manchin-Toomey compromise, which would have required background checks on all commercial gun sales.
Gottlieb warns that, even if background checks pass, they could come at significant cost to their supporters.
"There's usually a backlash to these things. Look at Colorado," he said. Two Colorado state senators were recalled in 2013 after pushing universal background checks and other gun reforms. "Historically, when the other side makes a gain passing a gun control measure, the people who supported it then lose at the ballot box."
Gottlieb lights up when talking about the first provision of Initiative 591, the one outlawing government gun confiscation without due process. Critics argue it's unnecessary: The Constitution already protects both due process and the right to bear arms. But after New Orleans authorities confiscated firearms to curb lawlessness after Hurricane Katrina, Gottlieb sees the provision as necessary.
"There's a need to replicate it right now in three or four other states pretty quickly," he said, citing Louisiana, Connecticut, New York, New Jersey and California.
The 594 camp, meanwhile, sees the opposing initiative as merely an attempt to "muddy the waters" and divide the electorate. "The reason they ran 591 is pretty clear: They want to confuse voters. When they're up against a very popular measure like universal background checks, the only way to defeat that is to confuse people," said Silk, the 594 campaign manager.
Gottlieb said that the background check initiative 594 is a "test battle" for gun reform proponents. And Cheryl Stumbo agrees. She is the citizen sponsor for 594 and a survivor of gun violence.
Her torso is traversed by long, deep scars, reminders of the days she spent in surgery after a bullet pierced her abdomen eight years ago. She was finishing up work on a sunny July afternoon in 2006, when a gunman stormed her colleagues' offices at the Jewish Federation of Greater Seattle. The hate crime left five wounded and one dead.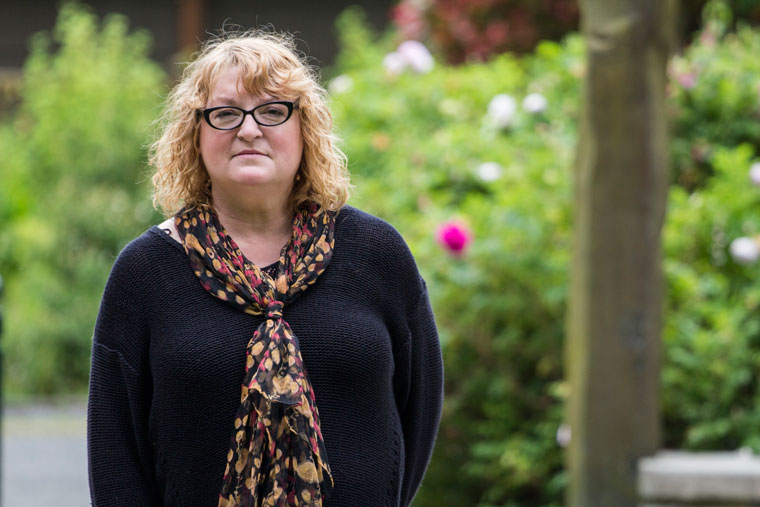 The gunman who shot her passed a background check, but Stumbo is undeterred. She is certain background checks will prevent others from experiencing her suffering. And she hopes to see legislation similar to 594 pass throughout the country.
"I do think the eyes of the nation are on Washington to see if we can make this happen here," said Stumbo. "If we can make this work here, there are other places where we can make this happen. We have a chance to show how it's done."
Sam Stites contributed to this report.
Give us your thoughts on this report
We want to hear from you.